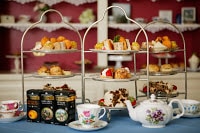 Mothers Day gifts have been an annual challenge for me. I've always felt like dedicating one day a year to my mom is not enough – shouldn't we take a moment or two every day to appreciate all that our mothers do? And yet, year after year, I hit the card aisle to read all the sappy prose and while none of the cards quite reflect my sentiments, I select one and then rack my brain for the perfect gift to accompany it.
Now that I am a mom myself, I realize that what my own mother told me for the last thiry plus years is true – all we really want is quality time with our offspring. And a lot of good food (prepared by someone else) couldn't hurt either! So, what better gift to give mom this year than a high tea at the Captains House Inn?
Set in our sunny dining room with floor to ceiling windows looking out to English gardens, our traditional English high teas are served on three tiers and are accompanied by high end loose teas served in individual china pots. Start on the top tier with savory delacies like curried chicken salad in phyllo pastry, egg salad stacked tea sandwiches, shrimp salad in tomato cups, and dainty sausage rolls. Move on to our homemade scones complete with whipped cream and strawberries and save room for our chef's homemade tea cakes and cookies for dessert.
Reservations are required, preferably 48 hours in advance. Tea is served daily with seatings from 3:00 to 4:30. Cost is $18/person plus tax and gratuity. High teas are also available to in-house guests with advance notice for $7.50/person. We look forward to seeing lots of moms in May and helping to celebrate all they do. 508-945-0127