I couldn't believe it. Just two days after Halloween, I went to the mall and it was as if Christmas had exploded all over Macy's. Christmas trees and lights, shiny red, green and silver balls, holly, Santa hats, and elaborately wrapped gifts adorned the entire mall and I found myself whistling White Christmas along with Bing Crosby as I scoped out the fall sales and mentally prepared myself for the festivities in the weeks ahead.
To that end, there are quite a lot of events taking place in Chatham and at the Captains House Inn over the coming months. The season kicks off with Thanksgiving – a favorite holiday among our staff as we host a lavish spread featuring not only a traditional American supper, but dishes from around the world. With staff from England, Jamaica, Haiti, and Argentina, the 30 plus people who gather in our finished basement feast on everything from Jamaican Jerk Chicken to Yorkshire Pudding and Argentinean Vino. The spirit of Thanksgiving transcends to the inn as guests book our luxuriously appointed rooms as a retreat from family they may be visiting in the area or take a year off from the chaos of hosting a large party and enjoy an intimate dinner at one of the many fine restaurants on the Cape open for the holiday.
Immediately following Thanksgiving, our Christmas decorations go up in preparation for the annual Chatham Inn Tour. This year marks the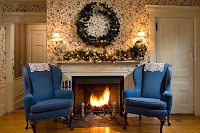 13th annual tour on December 13th from 1:30-4:30. Close to a dozen of Chatham's inns and historic homes open their doors to the general public and offer light refreshments throughout the afternoon. At the Captains House, we offer a two night Inn Tour Package which includes tickets to the event and a wine and cheese social. Package prices start at $395 and go up to $595 inclusive of tax.
Throughout the month of December, our traditional daily high tea menu transforms to a holiday themed tea complete with mini English trifle, stollen scones, and an elaborate assortment of savory tea sandwiches and pastries and tea cookies. Price per person is $18 for outside guests and $7.50 for in-house guests exclusive of tax and gratuity. Advance reservations are required and holiday teas are served daily with seatings between 3:00 and 4:30. Private parties for parties of six or more are available starting at 12:15.
Finally, after the Christmas rush is through, kick off 2011 by booking one of our few remaining rooms for our New Years Eve package. An annual tradition, our three night package includes a sumptuous high tea on December 30th followed by an ice cream sundae bar, extensive dinner buffet and Chatham First Night events on the 31st. The package culminates on New Years Day with a mimosa and Bloody Mary brunch with menu choices highlighting our theme this year – "Deceptively Light."
We look forward to welcoming you to Chatham for one of the many holiday events taking place to put you in the mood for the festivities of the season.