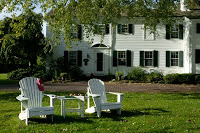 We've been getting creative here at the Captains House Inn and have designed three new packages. The first was inspired by some personal goals we have been working to achieve over the winter – both Jill and James have been training for the upcoming Hyannis Road Race and designed a Runner's Getaway Package for out of town runners. The package includes race registration fees, a runner's goody bag, massage, and carb-up breakfast. Check out some of the upcoming Cape Cod races and start training!
We are also offering a
Nifty Thrifty Carpool Package
. Grab your favorite travel mate(s) and book any two rooms for two nights now through June 15th. You unwind and refuel and we'll refuel your tank. Simply bring us your gas receipt ($75 max) and we will deduct the amount from your bill.
Finally, in honor of "Date Your Mate" month in May, our
Date Your Mate Package
is all about romance and rekindling relationships. Included in the two night special is a set of our luxury king or queen sheets, a dozen roses, a "Sweet"-Heart plate of maple "date" truffle cookies and homemade chocolate kisses, a split of bubbly, and "A Table For Two: The Cookbook for Couples."
So whether you are aiming to get in shape, save on fuel, or escape for some romance, we've got the package for you! Give us a call (508)-945-0127 or
book online
now (indicate your package selection in the "special needs" field of the booking form).