There is romance in the air at the Captains House Inn. Not only did innkeepers Jill and James celebrate a decade of marriage yesterday, today, a couple staying at the inn was married outside the gazebo. So, in honor of love and marriage, I'd like to share some tips for making your Cape Cod getaway extra romantic.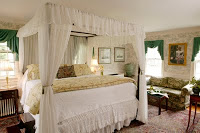 1. You're on the right track if you've booked a room with us at the Captains House Inn. Our rooms and suites are beautifully appointed and are specifically designed with romance in mind. Our Lady Mariah room, Clarissa Suite, or Lydia Harding Suite would be my top picks for ultimate luxury and are popular choices for honeymooners and those celebrating anniversaries. We even offer complimentary room service for breakfast and afternoon tea for those couples wanting the ultimate in privacy.
2. Allow us to book a table for you at one of Cape Cod's many fantastic restaurants. For an intimate dinner, the Captain Linnell House (where we were married) is classy and elegant and has won countless awards for their top notch food and romantic setting. Another great option is 28 Atlantic at the Wequassett Inn, which, while not as intimate and cozy, offers stunning views of Pleasant Bay and outstanding, creative cuisine. A more casual option is Buca's Tuscan Roadhouse in Harwich, a personal favorite featuring exceptional Northern Italian fare in, what feels like a truly authentic Italian setting.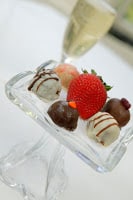 3. Take advantage of one of our many in-room amenities and surprise your significant other with our beautifully presented cheese, fruit, and chocolate dipped strawberry board, some bubbly, or a flower arrangement. We also offer homemade truffles for the chocoholic traveler and several other add-ons which add to your Captains House Inn experience.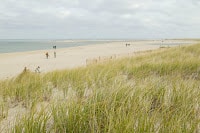 4. What's more romantic than a stroll along the beach? Check out one of the many bay beaches dotting the north coast of the Cape along route 6A or venture North to the National Seashore where the Salt Pond Visitor Center offers countless trails to explore along the shoreline.
5. Catch a sunset. Head over to Hardings Beach in Chatham (about ten minutes from the inn) and watch the sun sink into the Nantucket Sound. Or, particularly if you dine at the Captain Linnell House, hit Skaket Beach just down the street.
6. Surprise him/her with a Cape Cod souvenir. Chatham's Main Street is lined with boutiques, jewelry stores and galleries. The Narrowland Gallery tucked beside the Squire features beautiful local photography. For the food lover, take home a few bottles of Gustare flavored balsamics or olive oils. And for the jewelry lover, head to the original Cape Cod bracelet retailer, Eden on route 6A in Dennis.
7. Indulge in a local aphrodisiac. Ancient Romans believed that raw oysters heightened women's libido. Whether there's much scientific evidence to this or not is debatable, but this Cape Cod specialty is low in calories, high in protein, and best of all tasty. Pick up a dozen at Nickerson's Fish Market one afternoon and slurp them up while watching the fishermen unload their catch at the adjacent fish pier. Chocolate and vanilla are also renowned for their aphrodisiac qualities. I recommend a trip to Emack and Bolios in Chatham for a scoop each of Serious Chocolate Addiction and Vanilla Bean Speck.
Clearly the Cape is an ideal location for a romantic Cape Cod getaway. Whether you are seeking an adult vacation away from the kids, celebrating an anniversary or honeymoon, or popping the question, we will pull out all the stops to ensure your stay is as romantic as possible. And, if romance has never been your forte, don't worry…we're here to help.