There are several types of Cape Cod travelers – some prefer to meander down Main Street, poke around shops, and spend leisurely days lounging around the pool or on one of the Cape's many beaches. There are those that seek out the infamous Cape Cod Rail Trail for a scenic bike ride or hiking paths along the National Seashore for a bit of exercise. Then there are those who thrive on adventure. Luckily, Cape Cod is not just for the low key traveler. We have something for everyone and this post is dedicated to those seeking an off the beaten path experience.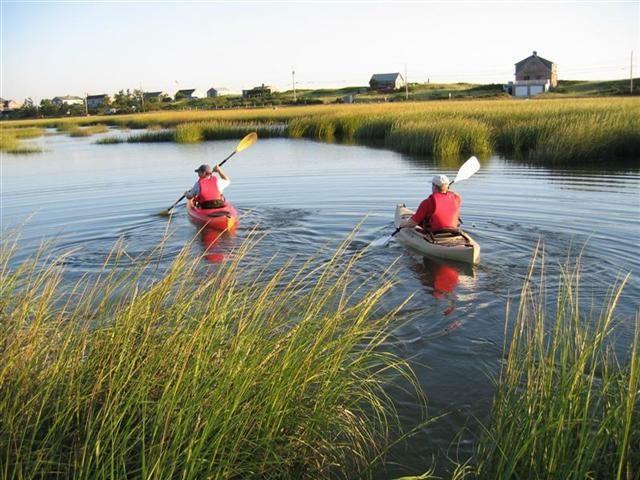 For water lovers, get in touch with Jonathan over at Cape Kayaking. He is an expert in the world of scenic kayaking tours and not only guides you through the most picturesque Cape waters, but provides the most up-to-date kayaks for your comfort and safety. He offers morning and afternoon group tours, each three hours long for $60/person or private tours for $75-$150/person. Either way, he will guide you through some favorite kayakers' paradises like Nauset Marsh and Pleasant Bay allowing you to take in the seals, birds, and other marine wildlife native to Cape Cod.


For adrenaline junkies, try your hand at sky diving right here at Chatham's airport. Skydive Chatham offers tandem jumps for under $250. Jumpers not only get to experience the adrenaline rush of a 10,000 foot free fall, but can take advantage of a twenty minute scenic flight of Cape Cod. After your jump, don't miss lunch over at Hangar B at the airport. Chef Brian offers a mean fish taco dish featuring local Cod.
Fun Seekers offers water enthusiasts three options for adventure water sport: surfing, wind surfing, and a relatively young and popular options – kite boarding – a sport for which Cape Cod is ideal with miles of coastline and consistent breeze. Lessons for all three options are advisable as the experts know when and where to learn based on tides and winds. While lessons aren't inexpensive (up to $375 for three hours), the rush you will feel as you mount a wave for the first time is priceless!
We are always happy to help with reservations for any Cape Cod activities in which you might be interested. Taking advantage of the above adventures are great ways to create a truly lasting memory of your Cape Cod getaway.