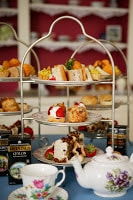 The holiday season is upon us and per our annual tradition, we have just launched our annual holiday tea menu. Executive Chef Kevin Case created a mouth watering menu that is sure to please every palate. Between the festive holiday fare and elaborate Christmas decorations gracing the dining room, there is no better way to jump into the holiday spirit than to join us for a truly memorable high tea treat.
Tea is $18/person and includes English holiday "crackers" (if you don't know what these are, you'll have to come simply to satisfy your curiosity!), plus all the menu items listed below presented on three tiers. We also serve high end artisan loose teas brewed in your own personal China tea pot. Holiday teas are served daily throughout December with seatings between 3:00 and 4:30. For groups of more than six, private parties are available starting at 12:15 (dates are filling up quickly!). Advance reservations are required – 508-945-0127.
Captains House Inn Holiday Tea Menu
Savory Course
Plum Tomato and Basil Pesto on Toasted Focaccia
Egg Salad and Watercress on Pumpernickel
Cucumber Shells Stuffed with Salmon Aoli and Pepper Salad
Curried Chicken in Phyllo Cups
Branston Pickle and Cheddar Tea Sandwiches
Winter Spice Bread with Citrus Cream Cheese
Mushroom Pasties
Cheese Straws
Scone Course
Mini Fruited Scone
Traditional Scone with Strawberry Jam, Whipped Cream and Strawberries
Dessert Course
Traditional English Mini Trifle with Victoria Sponge Cake, Blueberries and Peaches
Chocolate Holiday Tree Cookies
Rocky Road Triangles
Milano Raspberry Stars
Can't fit a Captains House tea into your busy holiday schedule? Whip up a batch of homemade scones and enjoy them on your own. Or, freeze them and save for all the holiday company! Add your favorite ingredients like sundried cranberries, chocolate chips, cinnamon, or raisins for variety.
Oven Temperature 350°
Yield 10 – 12 scones
Cutter #3 Plain Circular Edge Cutter
Ingredients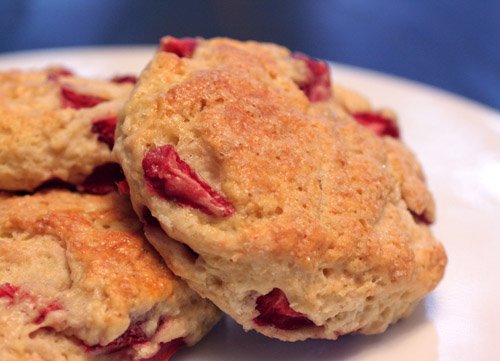 2 Cups All Purpose Flour
1 Tbsp Baking Powder
3 Tbsp Sugar
½ Cup Butter
2 Large Eggs
1/8 Cup Heavy Cream
Ingredients – Egg Wash
1 Egg
A Little Heavy Cream
Method
1. Sift the dry ingredients into the mixer and cut in the butter until the mixture resembles bread crumbs.
2. Add the eggs and then the cream a little at a time. Do not over moisten the dough.
3. Roll the dough LIGHTLY to a ¾" thickness and use a #3 plain circular edge cutter to shape the scones.
4. Place the scones on a greased cookie sheet and brush them lightly with egg wash (beat the two egg wash ingredients together).
5. Bake for 15 minutes at 350° until they have risen and are lightly browned.