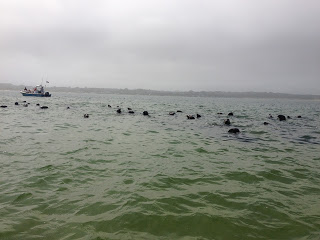 If you're anything like me, the idea of cruising around the
water on a boat is the epitome of relaxation. But throw in rough water and any
chance of a tranquil day at sea goes right out the window. Especially if you have a tendency toward sea
sickness. So I opt for shorter jaunts on
the water and, unless the waves are calm and I'm armed with Dramamine, any boat
on which I embark does not navigate the swells of the ocean waves.
Last weekend, the weather was picture perfect and our
daughters were begging to go for a boat ride.
We opted for a seal cruise, a Chatham
tourist tradition with several companies offering tours departing on a regular
basis. Captain Dave, of
Chatham WaterTours
took us on a small motor boat, the capacity of which was not much more
than a dozen passengers. He took us from
the Chatham Fish Pier along the Nantucket Sound out to the Lighthouse and along
the way, we saw heaps of seals. Captain
Dave narrated about the history of the shoreline and the break which resulted
from a late 1980's storm. And our daughters were entranced by the marine life around them and the excitement of powering along the water and waving to other boaters as we passed.
For a low key,
relaxing boat ride peppered with seal sitings and historical commentary, this
is an excellent choice to add to your Chatham
vacation itinerary.
Chatham Water Tours
,
Rip Ryder
, and
Beachcomber
offer tours
regularly throughout the summer.
Monomoy Island Excursions
offers trips to Monomoy Island and Harbor Cruises in additition to seal tours.

Chatham on Dwellable