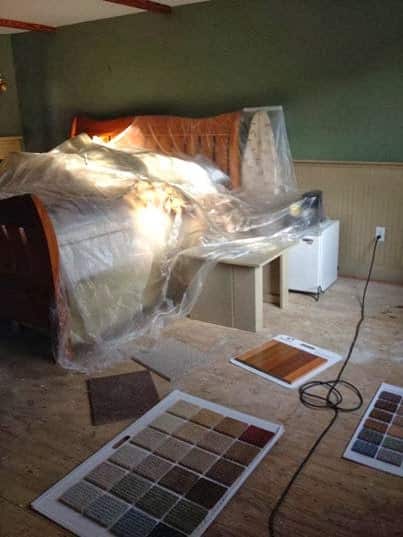 This is a great post to read if you have ever thought to
yourself, "I'd love to be an innkeeper.
What a wonderful lifestyle that must be!" While we love being innkeepers, and couldn't
imagine doing anything else, the following story, may have you rethinking any
inkling you ever had of stepping into our shoes…
At 4:30 in the evening, on January 24th, we landed in sunny
Florida where our family planned to spend ten days relaxing and enjoying the
warm climate. At 6:30, as we were
unpacking and about to dig into a homemade dinner my mom had prepared, James'
cell phone rang. It was one of our
interns, alerting us to the fact that a sprinkler system pipe had burst in the
attic space of our premier suite setting off the sprinklers in three guest
rooms and water damage was severe.
Over the next couple hours, we debated whether to hightail
it back to the Cape, but after speaking with Disaster Specialists, the alarm
and sprinkler company, and having some trusted friends check out the damage on
our behalf, we decided to stay put and attempt to enjoy our vacation. We managed to do just that, realizing that
our presence at the inn would not make much difference to the clean up and
aftermath of the disaster. Backed by a very
strong and capable staff, and a disaster team that worked quickly to dry out
all three rooms, we returned to the inn to find happy guests, and a very
controlled situation.
The last few weeks have been spent working with insurance on
claims, hiring contractors, and the fun part…picking out new wall coverings,
paint, carpet, and upgrading to hardwood floors in two rooms. What was initially a huge shock and panic is
turning out to be a blessing in disguise.
Three of our high end rooms are getting a nice facelift and insurance is
thankfully footing the bill plus covering loss of business over the course of
the repair period.
As the work commences next week, I will post pictures on
Facebook of the progress of the project.
Hopefully you will like the design choices we have made. We invite your comments and feedback as the
stables building improvements evolve.