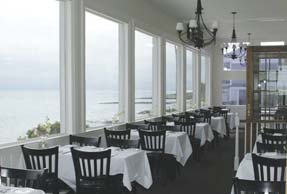 While March always feels like the longest month of the year, particularly for us New Englanders who have a severe case of spring fever and know warm weather is a good month away, the month always holds a sense of excitement and anticipation as restaurants begin to open for the season. Despite the fact that the Cape is still quiet in March, restaurateurs tend to open their doors several weeks before the crowds flock over the bridge, allowing them time to fine tune their menus and service during the slower pace.
On Wednesday, March 10th (which also happens to be my birthday), the Ocean House Restaurant in Dennis opened for the season and James and I were lucky enough to dine at a coveted window table. We hadn't been to the Ocean House in about five years, but left feeling much the same we had when we had been previously. The food was exceptional, the acoustics were a bit loud, and the view was lovely. But let me start from the beginning.
During the shoulder season, the Ocean House offers a three course price fixed menu nightly for $26. For each course, there is a large range of choices and I would be surprised if ordering off the regular menu made any difference on portion size. We started with filet mignon lettuce wraps and vegetarian spring rolls, both beautifully presented, and more importantly fresh and tasty. I moved on to a gourmet thin crust pizza topped with rosemary chicken breast, spinach, mushrooms, and goat cheese – yum – and James enjoyed pork tenderloin with barbequed white beans and shallot crackling. Dessert was the only disappointment – while I licked my chocolate pudding cake off the plate, James' blueberry buckle was little more than a mediocre blueberry muffin.
The service was a tad rushed – from start to finish, we were there exactly one hour, which, for three courses (and a rare opportunity to linger over a child-free meal), we felt the pace could have been a bit more leisurely. Still, it was opening night, and this is one of the minor glitches that we're sure will be addressed as the season progresses.
The view from our window seat, even after sunset was lovely with spotlights highlighting the Nantucket Sound. We highly recommend requesting a window seat – while the other tables are adequate, housed in a wood paneled open dining room with exposed brick fireplace leading to the bar, they pale in comparison to the water views.
The Ocean House is currently opened for dinner Wednesday through Sunday and reservations are suggested. Dessert disappointment and pace aside, for exceptional food and gorgeous views, this is one restaurant we will recommend and return to again.