On our four hour drive home from our Distinctive Inns of New England meeting at the Rabbit Hill Inn in Vermont, James and I somehow decided to have a salad creation contest for dinner. Given that the drive was long and we had nothing better to do, we got a little carried away and came up with some parameters:
Contest Rules:
1. No more than 10 ingredients per salad.
2. Ingredients must be procured from the grocery store in 15 minutes or less.
3. Salads must be prepared in 20 minutes or less.
4. Each contestant can choose one ingredient his/her opponent must use. Items selected were honey and fresh fig.
5. No cookbooks or recipes permitted.
6. Judging will be done by Facebook and Blog fans and the loser will have to take a polar plunge dunk in Chatham's Oyster Pond which will be videotaped and shared on the Captains House Inn Facebook page.
The contest was intense and came right down to the wire when plating. The results are below. Please comment or email us to cast your vote by April 1st at noon.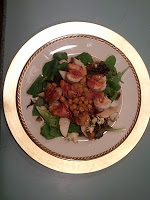 Salad A: Baby arugula salad topped with prosciutto wrapped grilled shrimp, crispy chickpeas, pear,fresh fig, and crumbled Stilton. Finished with a port balsamic reduction.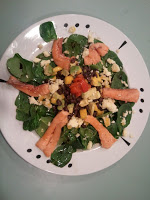 Salad B: Spinach salad dressed in cinnamon pear balsamic and topped with honey rubbed salmon, mango, avocado, sweet roasted red pepper, and black bean medley, and crumbled Wensleydale ginger mango cheese.