We were very excited to try a new Chatham restaurant last night. Well, it's not exactly new. It's the
Box Office Café
with a new
concept. For several years, the
BoxOffice Café
has been Chatham's
go-to coffee/pizza/sandwich/WIFI joint.
With mismatched cushioned chairs and couches and a huge flat screen TV,
it was the perfect spot to grab a bite, surf the web, and even catch a
movie. And it still is…but now, the
mismatched chairs have been replaced by contemporary style tables and chairs
and a brand new bar with over
70 craft style beers
. In addition to their
gourmet pizzas
and
made-to-order
sandwiches
, the café has added an entire
dinner menu
with fine
dining meets comfort food options running the gamut from chicken picatta
pomodoro to sea scallops over sundried tomato risotto to a big juicy Wolf's
Neck Farm burger.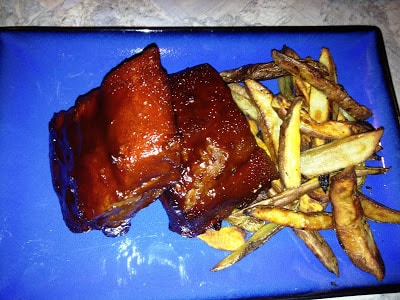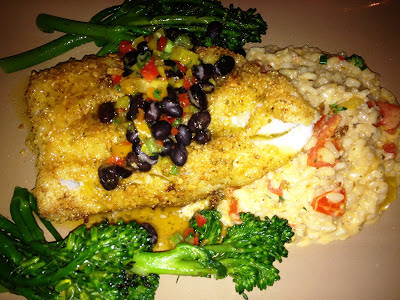 After salivating over the menu for a few minutes, James and
I finally agreed to share the almond crusted scallops with porcini ravioli
appetizer and he opted for the baby back ribs braised in a bourbon molasses
barbeque sauce with homemade Idaho and sweet potato fries while I selected the
pan seared blue corn crusted cod over Cajun risotto with a tomato, corn and
black bean salsa. We also chose a bottle of wine from their moderately priced
and nicely varied
list
and went to town on the basket of bread they brought
while we waited for our food. We always
say we can anticipate the quality of food to come by the bread. At first glance, the run-of-the-mill white
baguette didn't wow us. But it was
served piping hot with olive oil and boy was it good. I can't put my finger on what made it stand
out from an average piece of white bread – but whatever it was compelled us to
polish off the basket.
Then our appetizer arrived.
The scallops were full of flavor and cooked perfectly, but they were
almost overshadowed by the porcini ravioli.
I could have had a plate of that for dinner and been a happy
camper! Next came the entrees. Both dishes were outstanding and measured up
to the same quality bursting with flavor as the appetizer. Portions were large (I have lunch for today)
and we didn't have room for dessert – must have been all that bread. But a group of women next to us were diving
into a few after dinner treats and they seemed to be basking in a little piece
of heaven.
There were a few minor glitches, but nothing one wouldn't
expect from a restaurant just getting its feet wet. There was only one server for the entire
place (which is really just a handful of tables and about a half dozen bar
seats). But it was a Wednesday night in
January and they were much busier than I would have expected. Had I been in charge of staffing, I doubt I
would have had more than one wait staff on duty either. She was assisted by a runner/expediter,
though, and she was extremely helpful, pleasant, and on top of her game
considering all she had on her plate.
All in all, though, a delightful evening and one we anticipate repeating
in the not too distant future. We look
forward to sending guests to experience the unique cuisine and atmosphere only
found at the new
Box Office Café.