James and I had the pleasure of dining at
Vers
, the new
restaurant/patisserie housed just behind downtown
Chatham's Orpheum movie theater
.
Vers
is open all day serving
French inspired breakfasts and pastries followed by what they describe as a
"refined dining experience" by night.
Experience is right. Just six
days after
Vers
opened, we were one of the first patrons to delight in Chef Jonathan Haffmans' tasting menu which is based on the concept of supporting
local farmers utilizing fresh, organic ingredients when possible.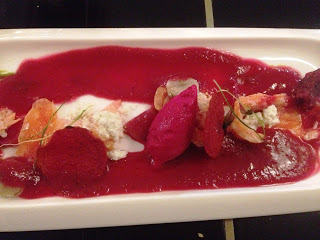 We anticipated some kinks during our meal –
this was, after all, less than a week into their service debut. But there was nary a glitch to be had – at
least not that we noticed. What we did
notice was course after course of exquisite, creative dishes with every
component made from scratch which not only tasted extraordinary, but were
presented so beautifully, we almost felt guilty digging in. Our taste buds prevailed, though, and we
stuffed ourselves with unusual combinations like Gazpacho of Summer Beets with Salmon Confit, Pistachio, Oyster Sorbet,
and Rock Chives which I would never conceive of pairing, but worked
beautifully.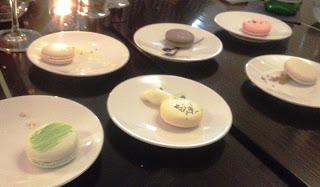 Not a beat was missed from
the fresh-from-the-oven homemade assortment of breads to the post dinner macaroon
sampler. The casual, European café
setting was a welcome deviation from a more formal dining room one typically expects
with this top notch cuisine. Add to that
an impeccable wait staff, and there you have it – just the addition Chatham's
dining scene needed: a "foodie" paradise tucked away in a little nook
on Main Street.
If you go: Reservations recommended. We are happy to book for you or you can call
508-776-8448. Cape casual/trendy attire
is appropriate – an elastic waistband is advisable.
Open year-round.