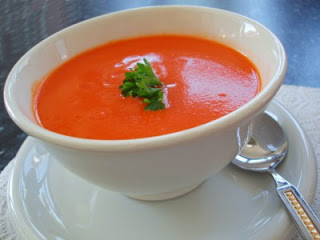 Many die-hard B&B goers claim that one of the top reasons
they prefer bed and breakfasts over larger hotels is that they don't feel they
are being "nickel and dimed."
Consider the cost of all the amenities you receive at the Captains House Inn, that you would pay for elsewhere: breakfast with complimentary room
service if desired, in-room water, juice and snacks, nighttime cookies,
afternoon tea, WIFI, access to our pool and fitness center…these costs could
amount to quite a lot per night. Tack on
a resort fee, as many larger properties are doing these days, and, well, you
get my point.
Since value is important to our guests, one of our interns
thought we could add another enticing "freebie:" wintertime
soup. Starting tomorrow, there will be a
crock pot of the soup of the day set up in our dining room. Guests can help themselves from noon until
6:00 p.m. What better way to warm your
bones after strolling along the beach in the brisk weather, than a steaming
bowl of Mushroom Bisque or Pumpkin Apple Soup?
So, in case you needed one more reason to take a escape to
Cape Cod this winter, now you have one. Suggestions
for new soup recipes or ideas are always welcome. Hope to see you soon!