Over the next few months, we will be featuring a blog post profiling members of our staff. We are very proud of our dedicated team, some of whom work behind the scenes and don't get the kudos they deserve. For our first employee profile, we present the member of staff who has been with us the longest…introducing Sylvia!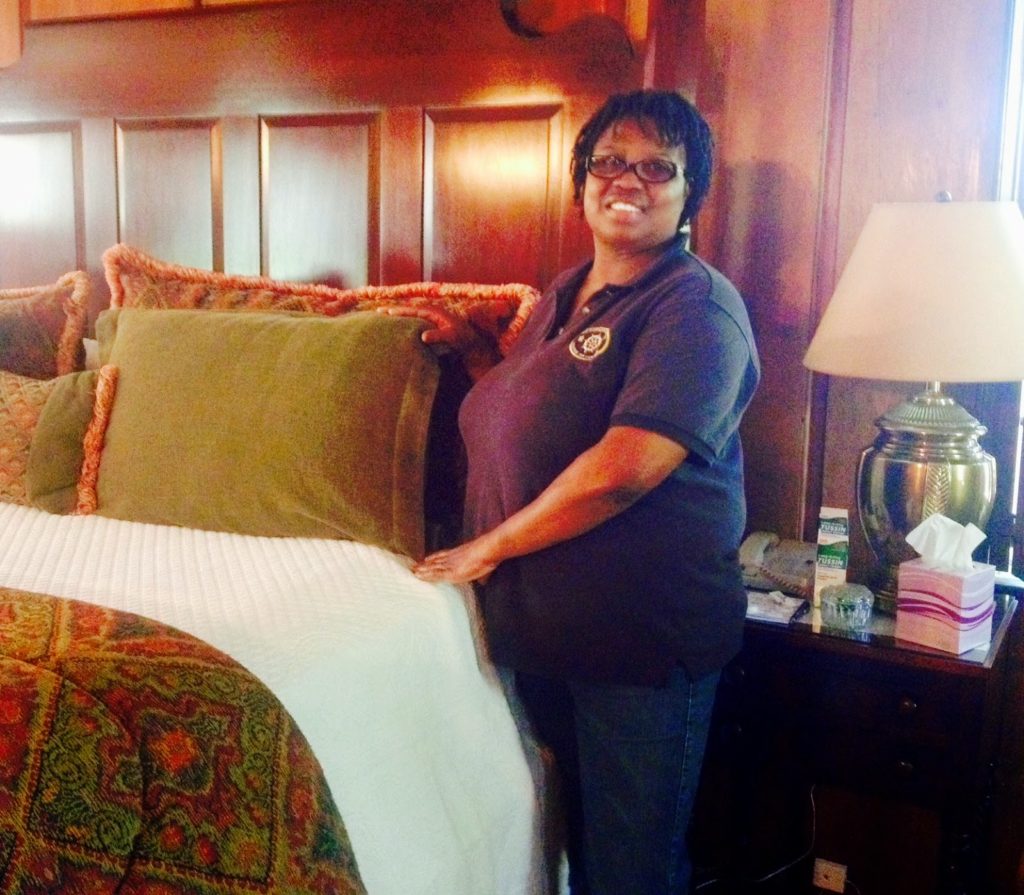 Sylvia has been a housekeeper with us since our first day as
innkeepers, at our former property, the Carriage House Inn. While we had business and hospitality background,
running a bed and breakfast was new to us.
Sylvia had been the housekeeper at the Carriage House Inn for several
years prior to our ownership and she took us under her wing and showed us the
ropes. Without her, we would have been
lost in the world of housekeeping.
Anyone can clean a room, but nobody can clean quite like
Sylvia. She taught us how to fold towels
into fans, triple sheet beds, fold the tip of the toilet paper to a perfect
point, and dust EVERYTHING, even light bulbs!
She insisted on ironing the sheets and showed us how to fold a set into
the neatest little bundle. I still
haven't perfected my sheet bundles quite like Sylvia.
Born in Port Antonio, Jamaica, Sylvia came to the Cape every
summer to work. She is now in her 20th
year and we are ecstatic she is now a U.S. resident and here year-round. She has four children – two boys and two
girls – and eight grandchildren scattered from England to Philadelphia to
Atlanta to New York. With such a large
family, Sylvia knows her way around the kitchen. When she's not busy cleaning guest rooms, she
loves cooking up one of her favorite Jamaican dishes – ackee with salted fish,
green bananas, dumplings and yams. She
also makes a mean pumpkin soup and her famous rice, peas and chicken dish is always requested
when cooking for friends.
When I asked Sylvia what she enjoys most about her job, she
was quick to answer that it is the guests that make her job enjoyable. She loves meeting people from all over the
world and establishing a relationship with those who frequent the inn on a
regular basis. A guest interaction one
rainy day stands out in Sylvia's mind: hands stacked high with sheets and
towels, Sylvia was darting between buildings in the middle of a downpour. Out of the
Captains' Cottage
came a guest,
rushing toward her with an umbrella.
"How can you do this?" the guest asked as she escorted Sylvia
to her destination. "It's
okay," Sylvia replied, "I like to make you happy."
Making people happy is a priority for Sylvia. "If the guests are happy, I am
happy," she says, and I believe her.
Housekeeping can be a thankless job, but Sylvia's positive attitude and
desire to please allow her to genuinely enjoy cleaning rooms day in and day
out. In fact, when I asked what she
likes least about her job, she struggled to answer. "Nothing," she eventually answered. Now how many people can say that?