When Bluefins Sushi and Sake Bar opened its doors in downtown Chatham a few years ago, I branched out from my regular repertoire of wine with dinner and decided to diversify my palate to include Japanese rice wine; aka sake (pronounced sa-kay, though I can't help but feel a little pretentious pronouncing it his way).  Turns out, my palate happens to quite like sake and I have since sampled the better part of the sake menu at Bluefins.
I have a great love for good food and drink so when I discover something new to add to my list of culinary favorites, I can't resist sharing my newfound passion with others.  Lucky for me, I have a large and appreciative audience of inn guests right at my fingertips to indulge me and perhaps open their eyes to a new discovery of their own.
With this in mi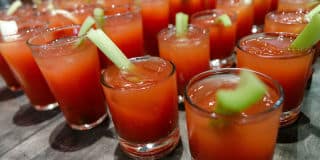 nd, we invented something.  Well, okay, we didn't exactly invent it – we took the advise of our wine sales rep and decided to incorporate sake into our breakfast cocktail list.  So without further adieu, allow me to introduce the Sake Bloody Mary.  Sound weird?  It's not.  It's actually pretty fabulous.  James' famous Bloody Mary mix meets clean, crisp, dry Tokubetsu Honjozo sake on ice with a celery garnish equals your next Captain's House Inn must-try.  According to some guests who recently volunteered to be our guinea pics (it took a lot of arm-twisting) – the Captain's House Inn Sake Bloody Mary trumps traditional vodka Bloody Mary's and is the best way to start a relaxing day on Cape Cod.
Cheers!