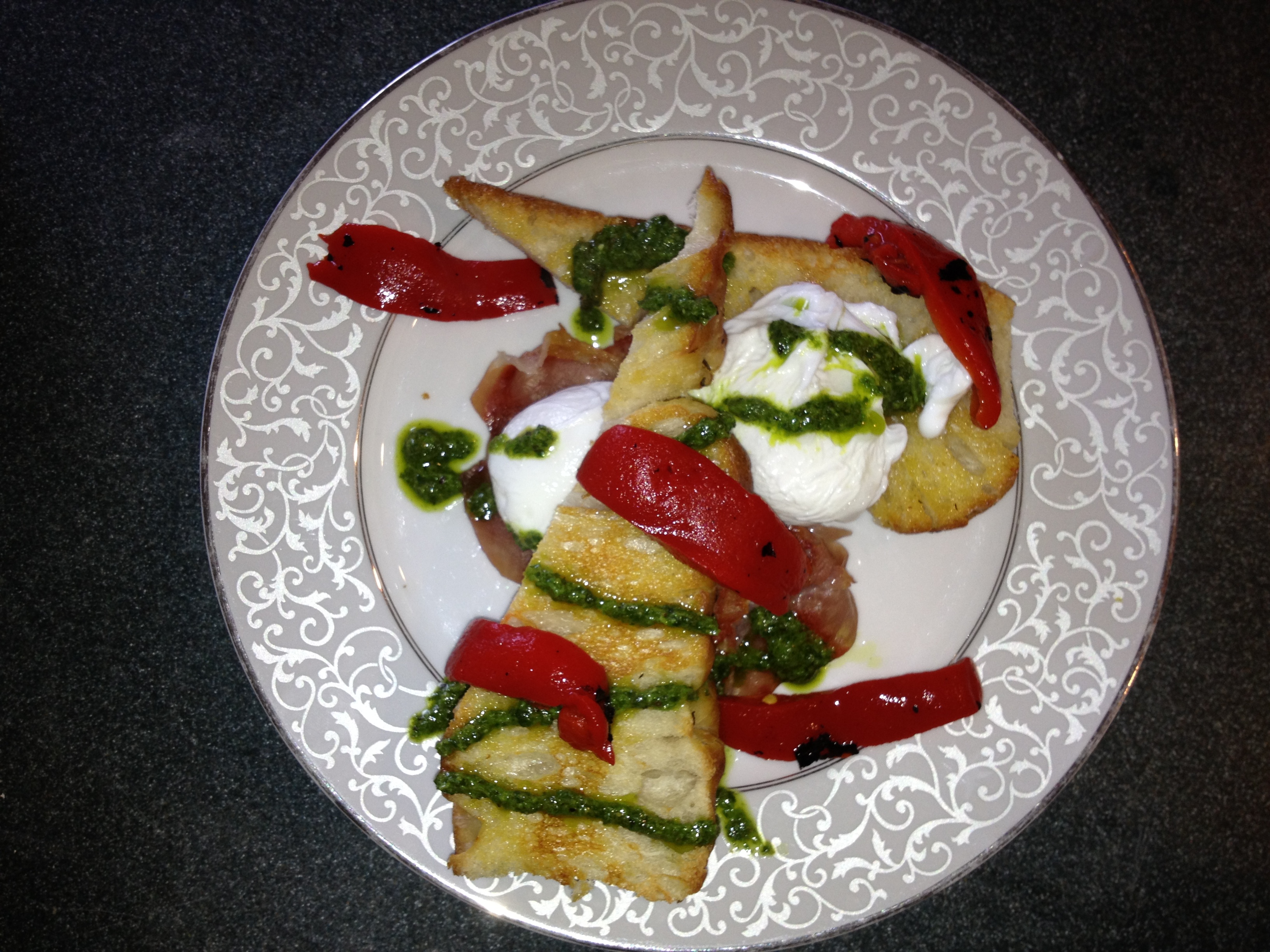 This recipe has been a staple at the Captain's House Inn for years. And for good reason! Who can say 'no' to poached eggs, hearty toast, pesto, prosciutto, and red peppers? What a decadent way to start the day!
Eggs Italino (Yield 4 Servings)
Click here for printable PDF
Ingredients
1 Cup Green Onion, finely chopped
½ Cup Extra-Virgin Olive Oil
¼ Cup Parsley, minced
½ Tsp Salt
4 Slices Thick Slices Country-Style Sourdough Bread
3 oz (about 4 Cups) Arugula Leaves
8 Slices (about 4oz) Prosciutto
8 Large eggs
8 Slices Roasted red pepper
Method
Combine chopped green onion tops, olive oil, parsley and salt in a small bowl; whisk to blend. (Can be prepared 3 hours ahead. Let stand at room temperature).
Lightly toast the bread slices and spread each with 1 Tbsp green onion oil.
Arrange ¼ of arugula on each bread slice. Top each with 2 slices of prosciutto. Transfer prepared slices to plates.
Divide remaining green onion oil equally among four glass ramekins. Using pastry brush, spread green onion oil over inside of each ramekin (most of mixture will fall back to bottom of cup). Break oven 2 eggs into each prepared cup. Place cups in large skillet. Pour enough water into skillet to reach halfway up sides of cups. Set skillet over medium- high heat and bring water to simmer. Reduce to medium-low. Cover skillet and gently cook eggs until whites are just firm to touch and yolks are set to desired consistency, about 6 minutes.
Using spatula and oven mitt or hand towel as aids, lift cups with eggs from water. Cut around eggs to loosen. Turn 2 eggs out onto each prepared bread slice. Garnish with parsley sprigs and roasted red pepper.