Happy Spring! We often think of pancakes as a heavier breakfast, perfect for a lazy, snowy Sunday in winter. But we're partial to pancakes year-round, so here, we share one of our favorite pancake recipes which uses ricotta cheese to create a light and fluffy pancake, perfect for the spring!
Lemon Ricotta Pancakes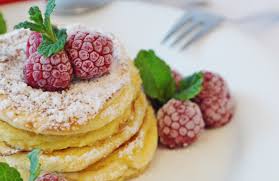 Ingredients
1 cup all-purpose flour
1 tablespoon baking powder
1/2 teaspoon ground nutmeg
1/4 teaspoon salt
2 tablespoons sugar
1 cup ricotta cheese
2 eggs
2/3 cup milk
1 lemon, zested and juiced
Butter, for griddle
Directions
Preheat a nonstick griddle.
Combine flour, baking powder, nutmeg, salt, and sugar in a small bowl. Whisk together the cheese, eggs, milk, lemon juice and zest in a large bowl. Whisk the flour mixture into the wet ingredients until just combined. Brush the hot griddle with butter. For each pancake, pour approximately 1/4 cup measure of the batter on the griddle and cook on both sides until light golden brown. Repeat until no batter remains.
Serve with fresh raspberries, powdered sugar and maple syrup or lemon glaze.