I know I've been on pancake overdrive lately, but seeing as today is Shrove Tuesday AKA Pancake Day, I would be remiss if I didn't share with you our traditional English pancake recipe which was served this morning for breakfast and will served at our house for dinner tonight!
Additionally, unbeknownst to most, today is National Sticky Bun Day. Following the pancake recipe is our favorite Gooey Super Sticky Bun recipe (what? It's Fat Tuesday – a day of indulgence!)
Ingredients
For the pancake mixture (measurements in Metric and US units):
110g/4oz plain flour, sifted
pinch of salt
2 eggs
200ml/7fl oz milk mixed with 75ml/3fl oz water
50g/2oz butter
To serve: Your choice of toppings – dust with confectioner's sugar or granulated sugar, fresh lemon juice and/or lemon wedges, or enjoy a la Jill with a dollop of strawberry jam. Or, use your imagination – honey, maple syrup, even a savory version with ricotta or cottage cheese and fresh fruit could work!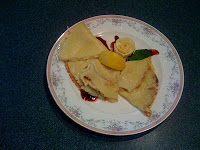 Preparation Method:
Sift the flour and salt into a large mixing bowl. Make a well in the center of the flour and break the eggs into it. Then begin whisking the eggs incorporating any bits of flour from around the edge of the bowl as you do so.
Next gradually add small quantities of the milk and water mixture, still whisking (don't worry about any lumps as they will eventually disappear as you whisk). When all the liquid has been added, use a rubber spatula to scrape any elusive bits of flour from around the edge into the center, then whisk once more until the batter is smooth, with the consistency of thin cream. Now melt the 50g/2oz of butter in a pan. Spoon 2 tbsp of it into the batter and whisk it in, then pour the rest into a bowl and use it to lubricate the pan each time you make each pancake.
Now get the pan really hot, then turn the heat down to medium and, to start with, do a test pancake to see if you're using the correct amount of batter. I find 2 tbsp is about right for an 18cm/7in pan. As soon as the batter hits the hot pan, tip it around from side to side to get the base evenly coated with batter. It should take only half a minute or so to cook; you can lift the edge with a palette knife to see if it's tinged gold as it should be. Flip the pancake over with a pan slice or palette knife – the other side will need a few seconds only – then simply slide it out of the pan onto a plate.
Stack the pancakes as you make them between sheets of wax paper.
To serve, doctor them up to your liking with your preferred fillings and roll them up or fold them into triangles. Top with lemon wedges and if you're feeling particularly creative, pipe a lemon butter rose on top (or leave that to Kevin the next time you visit us!)
1 cup warm water (105°F to 115°F)
4 teaspoons dry yeast
2/3 cup sugar
1/2 cup (1 stick) unsalted butter, room temperature
1/2 cup dry nonfat milk powder
1 1/4 teaspoons salt
2 large eggs
4 1/4 cups (or more) all purpose flour
Glaze:
1 1/4 cups (packed) golden brown sugar
3/4 cup (1 1/2 sticks) unsalted butter, room temperature
1/4 cup honey
1/4 cup dark corn syrup
1/4 cup water
2 cups pecan halves
4 teaspoons sugar
4 teaspoons ground cinnamon
Preparation Method For Dough:
Mix 1/4 cup warm water, yeast, and pinch of sugar in small bowl. Let stand until foamy, about 8 minutes. Using electric mixer, beat remaining sugar, butter, milk powder, and salt in large bowl until well blended. Beat in eggs 1 at a time. Mix in remaining 3/4 cup warm water and yeast mixture, then 3 cups flour, 1 cup at a time. Using rubber spatula, mix in 1 cup flour, scraping down sides of bowl frequently (dough will be soft and sticky). Sprinkle 1/4 cup flour onto work surface and knead until smooth and elastic, adding more flour if sticky, about 8 minutes.
Butter another large bowl. Add dough; turn to coat. Cover bowl with plastic wrap and let dough rise in warm area until doubled, about 2 1/2 hours.
Preparation Method For Glaze:
Butter two 10-inch round cake pans with 2-inch high sides. Beat brown sugar, 1/2 cup butter, honey, corn syrup, and 1/4 cup water in medium bowl to blend. Spread half of glaze in bottom of each prepared pan. Sprinkle 1 cup pecans over each.
Punch down dough. Divide dough in half. Roll each dough piece out on floured work surface to 12×9-inch rectangle. Brush any excess flour off dough. Spread remaining butter over dough rectangles, dividing equally. Mix 4 teaspoons sugar and cinnamon in small bowl. Sprinkle cinnamon sugar over rectangles. Starting at 1 long side, tightly roll up each rectangle into log. Cut each log into 12 rounds. Place 12 rounds, cut side down, in each prepared pan, spacing evenly. Cover with plastic wrap. (Can be made 1 day ahead; refrigerate.) Let buns rise in warm area until almost doubled, about 1 hour (or 1 hour 25 minutes if refrigerated).
Preheat oven to 375°F. Bake buns until deep golden brown, about 30 minutes. Run small knife around pan sides to loosen sticky buns. Turn hot buns out onto platter. Cool about 30 minutes and serve.
Happy Baking and Eating!!