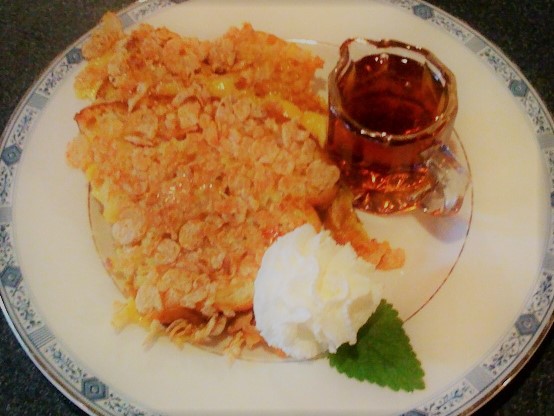 This recipe has been a guest favorite since before we took ownership of the inn eleven years ago. How do we get that little crunch in our French toast to give it that extra goodness?
Follow this surprisingly simple recipe to try it for yourself!
Crunchy French Toast (Yield 4 Servings)
Click
here
for the PDF recipe
Ingredients
½ Cup Evaporated Milk
1 Large Egg
1 ½ Tbsp. Water
1 Tbsp. Sugar
1 ½ tsp. Vanilla Extract
½ tsp. Cinnamon
1 Cup Crushed Rice Krispies (or any crunchy cereal)
8 Slices Portuguese Sweet Bread
½ Pint Fresh Strawberries
Method
In a medium bowl, combine the evaporated milk, eggs, water, sugar, vanilla extract and cinnamon.
Dip the bread into the mixture, then coat each slice with the crushed cereal.
Heat the griddle, glaze with butter and cook each piece until golden and crisp.
***Garnish with strawberries and dust of powdered sugar***